Accommodation: Izdajem sobe u Sutomoru ili cjelu kucu
category
category
category
Number of views: 142638
from
5€
per person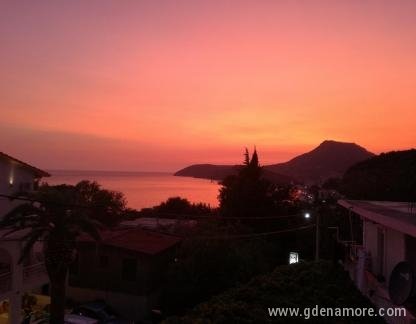 Apartment:
Room:
Studio:
Whole object
WELCOME!

For all the guests that are interested to spend the summer in Sutomore, we are offering accomodation and hospitale atmosphere (hospitality) that will make your holiday unforgetable and make you wish to come to us again!
Our long experience and hospitality are the factors that guarantee all those things.

We are offering rooms with separate and shared bathrooms (shared bathroom between two or three rooms) depending on your wishes and affordability.
Each room has a refrigerator where you can put food, beverages, fruit etc. and in that way maintain the freshness and good spirit(mood).

We also possess two large terraces with the wide view over the sea and the beach that offers you the ideal conditions for the relaxation and fun. On those terraces you can watch television and fulfill your free time in various ways.

You have the opportunity for free internet using( you only have to bring your lap top with you).

The house possesses free parking spaces for 4 to 5 cars.
Legend:
All rooms, apparments
Some rooms, apartments
No
Capacity:

30

Seaview:
Water 24h:
Bathroom:
Kitchen:
Room service:
Safe box:
Washing machine:
Towels:
Large terrace:
Balcony:
Air conditioning:
TV:
Cable TV:
Internet:
Telephone in the room:
Parking:
Garage:
Pool:
Suitable for children:
Pets allowed
Suitable for disabled people:
If you visited this accommodation, you can write your impressions here
Last updated: 07/21/2020 Presentation created: 05/29/2013