Accommodation: Apartmani Obala Meljine
category
category
category
Number of views: 516034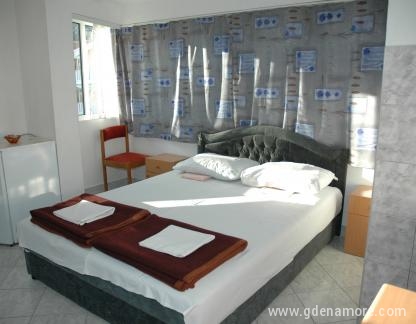 Apartment:
Room:
Studio:
Whole object
Our apartments are in an exceptionally attractive location on the sea shore in the heart of Meljine, which is 1.2km from Herceg Novi. Our sandy beaches are the best-known in the Herceg Novi Riviera and in the Bay of Kotor, the main sandy beach just 20 metres from our apartments. Our famous promenade, which connects Meljine to Igalo, offers beautiful views of the Bay and the town's riviera during those refreshing morning and evening walks. Very close by is the famous monastery of Savina and the Savinska Dubrava park. The area is well-served by a good number of shops, restaurants and cafés.

All apartments have separate entrances, air-conditioning, kitchenette, bathroom, television and wireless internet. We have a shared terrace and a grill is available for use.

We have a constant water supply.

We wish you an enjoyable holiday!
Legend:
All rooms, apparments
Some rooms, apartments
No
Capacity:

16 ležaja

Seaview:
Water 24h:
Bathroom:
Kitchen:
Room service:
Safe box:
Washing machine:
Towels:
Large terrace:
Balcony:
Air conditioning:
TV:
Cable TV:
Internet:
Telephone in the room:
Parking:
Garage:
Pool:
Suitable for children:
Pets allowed
Suitable for disabled people:
If you visited this accommodation, you can write your impressions here
Last updated: 02/11/2020 Presentation created: 07/11/2013