Accommodation: Vila Obradovic
category
category
category
category
Number of views: 87195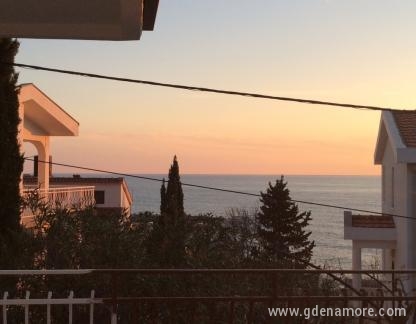 Apartment:
Room:
Studio:
Whole object
This house is being rented in its entirety

The villa can accommodate 9 people + 1 and the stay is charged per night (€100) for the whole facility, regardless of the number of guests. (advance payment is 50 €)
(rooms are not rented individually and we don't have apartments).

Villa on Veliki Pijesak, with four bedrooms (two with sea views) (3 + 2 + 2 + 2 + one futon in the common room upstairs + if necessary 1 baby bed), two bathrooms, kitchen, two terraces, one in ground floor ca. 30m2 and the other ca, 20m2 on the first floor, overlooking the sea.
Possible parking for three cars. Our villa offers comfort, WiFi, air conditioning, dishwasher, barbecue and of course staying in it are just you and your friends or your family. We as owners are not located in the villa during your stay.
Three beaches are in the area, Small Beach (distance ca.100m) Trljilo Beach (200m) and Big Beach (Veliki Pijesak (300m), giving a special charm to the position of the villa. On the beach, there is a very wide variety of restaurants and entertainment services. Grocery shopping is possible locally in a few stores. The larger supermarkets are located in the city of Bar (7 km), as well as a large green market and a good offer of fresh fish.
At the Big Beach, trips on tourist boats as well as mini-bus trips to several destinations on the Montenegrin coast and in the mountains are being offered. Trips to Dubrovnik, Tirana, Ostrog Monastery, and some of the canyons in Montenegro are offered as well.
Tourist (residence) tax is an obligation paid by the customer.
Legend:
All rooms, apparments
Some rooms, apartments
No
Capacity:

9+1

Seaview:
Water 24h:
Bathroom:
Kitchen:
Room service:
Safe box:
Washing machine:
Towels:
Large terrace:
Balcony:
Air conditioning:
TV:
Cable TV:
Internet:
Telephone in the room:
Parking:
Garage:
Pool:
Suitable for children:
Pets allowed
Suitable for disabled people:
Review writer

Lidija Prpos

Date of stay at this property:

jul 2017

Date of entry reviews entry:

08/05/2017

The overall impression of the accommodation:

Read the review
If you visited this accommodation, you can write your impressions here
Last updated: 01/18/2020 Presentation created: 05/26/2016