Accommodation: Ani apartmani
category
category
category
Number of views: 956814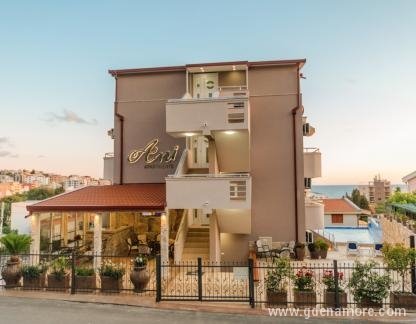 Apartment:
Room:
Studio:
Whole object
Kuća je kategorizovana sa tri zvijezdice. Svaka soba je u prosjeku veličine 25 m2 + terasa i sadrži mini kuhinju, kupatilo, tv, klimu i terasu.
Prednosti koje vam kuća nudi su i to što je na kući uradjena komplet termo izolacija, takodje uz sobu dobijate i besplatan parking, koji je inace pod video nadzorom, voda vam je na raspolaganju 24 sata, svaka soba sadrži terasu sa koje vam se pruža predivan pogled na pučinu i veoma razudjenu i prekrasnu obalu mora.
Još jedna od prednosti je i to što se na vrhu kuće nalazi zajednička terasa sa mini bazenom koju možete koristiti za razne aktivnisti.
U okolini kuće se nazaze tri plaže na udaljenosti od po 100 metara i to su: Veliki Pijesak, Trljila i Mali Pijesak. Od ovih tri plaža Veliki Pijesak je najveća i najposjećenija plaža. Na plaži se nalaze brojni restorani, kafiterije, slastičare, prodavnice i brojni noćni klubovi. Preko dana plažu posjećuju turistički brodići sa kojima možete obići i udaljenije plaže na crnogorskom primorju i razlgledati ljepotu crnogorske obale.
Legend:
All rooms, apparments
Some rooms, apartments
No
Capacity:

40

Seaview:
Water 24h:
Bathroom:
Kitchen:
Room service:
Safe box:
Washing machine:
Towels:
Large terrace:
Balcony:
Air conditioning:
TV:
Cable TV:
Internet:
Telephone in the room:
Parking:
Garage:
Pool:
Suitable for children:
Pets allowed
Suitable for disabled people:
If you visited this accommodation, you can write your impressions here
Last updated: 09/09/2020 Presentation created: 01/06/2013