Accommodation: Villa Aleksandar
category
category
category
Number of views: 281480
from
5€
per person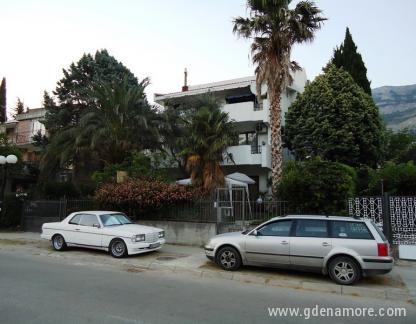 Apartment:
Room:
Studio:
Whole object
Sutomore is a well-known summer resort with very long beach of fine sand. It is surrounded by high hills covered in pine and olive trees and Mediterranean vegetation. There are many nice hotels along the beach. The city is situated below the Adriatic main road and railway track which connects Bar with Belgrade. There is a fortress from the Turkish era named Haj Nehaj on the nearby hill.
Sutomore is a settlement in the immediate distance of Bar built along the beautiful beach which is 1.3 km long.
Tourists discovered the benefits of this place even in 1931. when they started visiting it while being enchanted with the beauty of the beach and pleasant ambient in the immediate surroundings.
Sutomore today is a modern tourist resort with numerous hotels and villas surrounded by old olive, lovely palm and citrus fruits trees.

Villa ALEKSANDAR possesses lux apartments which are in the nice garden full of palm and olive trees.
The restaurant is nearby.

Villa ALEKSANDAR is situated in the immediate distance of the city beach in the green oasis of olive, tangerine and citrus fruits trees which is very pleasant for summer vacation and holidays of tourists. The villa possesses 2-beds, 3-beds, 4-beds, 5-beds and 6-beds apartments. The apartments have their own bathrooms, kitchens and terraces as well as common terrace and green areas for pleasant rest of tourists. Villa ALEKSANDAR also offers half board and full board services.
Legend:
All rooms, apparments
Some rooms, apartments
No
Capacity:

Po dogovoru

Seaview:
Water 24h:
Bathroom:
Kitchen:
Room service:
Safe box:
Washing machine:
Towels:
Large terrace:
Balcony:
Air conditioning:
TV:
Cable TV:
Internet:
Telephone in the room:
Parking:
Garage:
Pool:
Suitable for children:
Pets allowed
Suitable for disabled people:
If you visited this accommodation, you can write your impressions here
Last updated: 07/21/2020 Presentation created: 01/06/2013