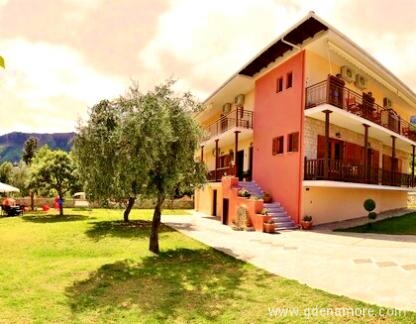 Apartment:
Room:
Studio:
Whole object
In green island of Thassos, in village Potamia, you will find the studios - apartments "DRYADES.
It consist of five single and double apartments, each has a fully equipped kitchen, TV, A/C, safe and hairdryer. Surrounded by a large garden, a playground for kids and spacious parking for all apartments.
From our apartments you can enjoy the beauty of deep blue, and full of greenery, picturesque landscape of the region.
Our complex is 1.5 km away from the beach of Golden Beach and 12 km from the island country, Thassos town (Limenas).
Legend:
All rooms, apparments
Some rooms, apartments
No
Capacity:

3 studios, 2 apartments

Seaview:
Water 24h:
Bathroom:
Kitchen:
Room service:
Safe box:
Large terrace:
Balcony:
Air conditioning:
TV:
Cable TV:
Internet:
Telephone in the room:
Parking:
Garage:
Pool:
Suitable for children:
Pets allowed
If you visited this accommodation, you can write your impressions here
Last updated: 08/19/2019 Presentation created: 03/02/2016