Accommodation: Mike's Apartments
category
category
category
Number of views: 131192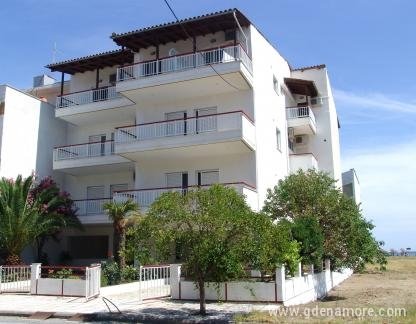 Apartment:
Room:
Studio:
Whole object
Nei Pori of Pieria, where the magnificent view of Mount Olympus meets
the deep blue of Aegean waters, you can find our rooms Mike's Apartments.

Only 40 meters away from the beach of Nei Pori, you can find our apartments,
an ideal option for an economic and qualitative accommodation in our village!
Your stay at Mike's apartments is accompanied by the quiet location, unique
view of the blue Aegean and of course all the necessary information you will
need for your vacation!
Our apartments are spacious, with or without sea view. There is private bathroom, fully equipped kitchen, fridge, TV, air conditioning or fan territory, and free wireless Internet. There are also positions available for Parking.
Our friendly service, clean rooms and low prices will make your stay in Nei Pori unforgettable!
Legend:
All rooms, apparments
Some rooms, apartments
No
Capacity:

2-6

Seaview:
Water 24h:
Bathroom:
Kitchen:
Room service:
Safe box:
Large terrace:
Balcony:
Air conditioning:
TV:
Cable TV:
Internet:
Telephone in the room:
Parking:
Garage:
Pool:
Suitable for children:
Pets allowed
If you visited this accommodation, you can write your impressions here
Last updated: 09/24/2020 Presentation created: 01/20/2014