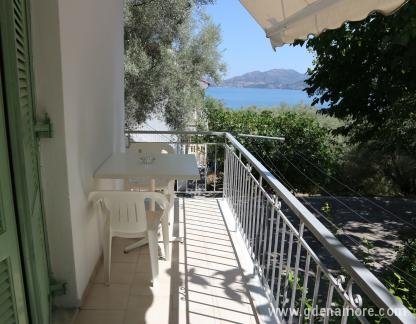 Apartment:
Room:
Studio:
Whole object
The Studios Fraxi accommodation is located on the east coast of Lefkada island, in the popular coastal village of Nikiana. It is situated 10 km from Lefkada town, 7 km from the village of Nidri and it is just a 5-minute walk from the beach (120 m).

The accommodation consists of 6 studios which can host 2, 3 or 4 people (an extra bed can be added to some of the 3-person studios). All the studios have cooking facilities including a refrigerator and 2 hotplates, TV, air-conditioning, Wi-Fi, a balcony or terrace and parking space.

Upon your arrival, you will encounter a quiet and friendly environment away from the noise of the city and you will enjoy the warm hospitality offered by the owners of Studios Fraxi.
Legend:
All rooms, apparments
Some rooms, apartments
No
Capacity:

6

Seaview:
Water 24h:
Bathroom:
Kitchen:
Room service:
Safe box:
Washing machine:
Towels:
Large terrace:
Balcony:
Air conditioning:
TV:
Cable TV:
Internet:
Telephone in the room:
Parking:
Garage:
Pool:
Suitable for children:
Pets allowed
Suitable for disabled people:
If you visited this accommodation, you can write your impressions here
Last updated: 02/20/2020 Presentation created: 03/22/2014