from
17€
per person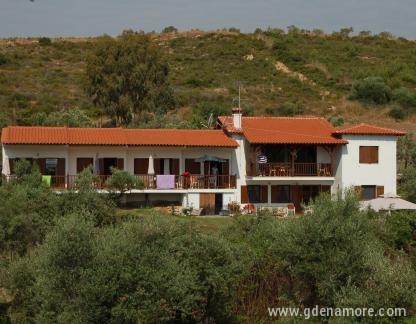 Apartment:
Room:
Studio:
Whole object
Our house is quietly located in an olive orchard and is the ideal location to enjoy a relaxing stay at the sea. It's only 500 m to the beach and 4 km to the next village. The adorably furnished heatable studios consist of one room with fully equipped kitchenette, shower/wc, balcony with view to the sea and Mt. Ahtos. There is also a complete apartment (65 sqm) consisting of a living room with TV and piano, 2 beds, separate bedroom with big bed, kitchen, shower/wc, veranda to the garden. During the off season period a perfect place to write a book, compose music, paint, meditate, hike and relax.
There is no direct neighbourhood. Tavernas and shops are found in the surrounding villages. To Thessaloniki it's a 100 km ride. It's advisable to have a car, as public transportation is scarce. We have also organized several seminars and workshops, yoga, painting, self-awareness, african drums, etc. - we are open for many ideas.
Since 2004 our guests confirm the pleasant atmosphere of our place. We are happy to welcome interesting and nice guests from all over the world.
Legend:
All rooms, apparments
Some rooms, apartments
No
Capacity:

5 studios

Seaview:
Water 24h:
Bathroom:
Kitchen:
Room service:
Safe box:
Washing machine:
Towels:
Large terrace:
Balcony:
Air conditioning:
TV:
Cable TV:
Internet:
Telephone in the room:
Parking:
Garage:
Pool:
Suitable for children:
Pets allowed
Suitable for disabled people:
If you visited this accommodation, you can write your impressions here
Last updated: 08/10/2019 Presentation created: 12/06/2013