Accommodation: Villa Christina AMA00000084227
category
category
category
Number of views: 68791
from
13€
per person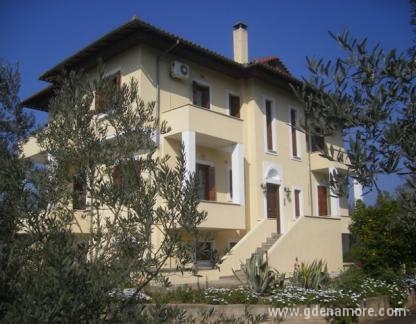 Contact Person:

christina b

Address:

Amaliapoli

City: Amaliapoli, Greece
Phone:

0044 1793 770973

Cell Phone:

0044 7850818435

Web:

www.amaliapolis.com
Contact owner
Show map
Add to Wish List
Owner speaks languages:English, Français, Español, Greek
Owner speaks languages:English, Français, Español, Greek
Apartment:
Room:
Studio:
Whole object
This attractive villa stands on the edge of the seaside village of Amaliapolis but is only 7 minutes walk from the sandy beach and also the village centre where you will find tavernas, cafes and local shops.
This furnished accommodation is offered for rent by a private owner on a self-catering basis only. We do not provide hotel services. AMA 00000084227
It offers very flexible accommodation making it ideal for friends or family groups who like to holiday together but who also want some privacy. On the first floor is a large living room, kitchen, two bedrooms and bathroom with full air-conditioning. On the second floor there are two more bedrooms and two living rooms with sofabeds, also with kitchenette and two bathrooms.There are many balconies with lovely views.
Located on the Greek mainland just south of Volos, the villa makes an ideal base for visiting sites such as Delphi and Meteora, and also the Pelion peninsula.
Legend:
All rooms, apparments
Some rooms, apartments
No
Capacity:

12

Seaview:
Water 24h:
Bathroom:
Kitchen:
Room service:
Safe box:
Washing machine:
Towels:
Large terrace:
Balcony:
Air conditioning:
TV:
Cable TV:
Internet:
Telephone in the room:
Parking:
Garage:
Pool:
Suitable for children:
Pets allowed
Suitable for disabled people:
If you visited this accommodation, you can write your impressions here
Last updated: 01/23/2020 Presentation created: 12/14/2013