from
8€
per person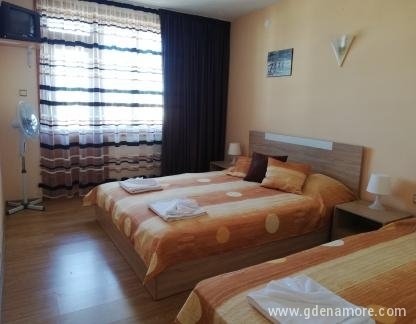 Contact Person:

Elena D.

Address:

Dobrotitza 12

Phone:

+359886721842

Cell Phone:

+359886721842
Contact owner
Show map
Add to Wish List
Owner speaks languages:English, Russian, Български
Owner speaks languages:English, Russian, Български
Apartment:
Room:
Studio:
Whole object
For your holiday at the sea we offer double and triple rooms.
At our disposal are double rooms, triple rooms - bedroom + bed. The rooms are with private bathroom, refrigerator, TV, wi-fi, fan, iron and ironing board, sea view.
The house has a summer garden with kitchen, barbecue, tables and benches for relaxation. Parking spots.
Prices per night from 7 euro to 10 euro per person, depending on the dates of accommodation.
For children up to 12 years of discount.
The house is located 50m from the center and 400m from the beach.
Legend:
All rooms, apparments
Some rooms, apartments
No
Capacity:

14

Seaview:
Water 24h:
Bathroom:
Kitchen:
Room service:
Safe box:
Washing machine:
Towels:
Large terrace:
Balcony:
Air conditioning:
TV:
Cable TV:
Internet:
Telephone in the room:
Parking:
Garage:
Pool:
Suitable for children:
Pets allowed
Suitable for disabled people:
If you visited this accommodation, you can write your impressions here
Last updated: 12/28/2019 Presentation created: 07/06/2018