Smeštaj: Rentaki Villas Apartments
kategorija
kategorija
kategorija
kategorija
Broj pregleda: 690698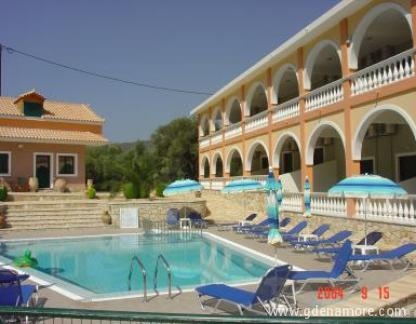 Apartman:
Soba:
Studio:
Ceo objekat:
Our group of Rentaki Villas is located in the region of Limni Keri which is south - west of the island of Zakinthos .Our group is only 200 metres away from the beach with all its facilities (not a party area, but civilized tourist area where people have respect for each other and the environment, and energy is nice and low) and the little harbour of Limni as you can see in the photos. It is very close to supermarkets, bakery shops, taverns, and bars. It is far away from noise. Situated among the old olive trees with a view of the golf of Laganas and the island of Marathonisi . The construction was finished in 2005. and it consists of thirteen furnished luxurious apartments.

Using Rentaki Villas as base you can explore unique spots on the island within short distance by car, by boat or walking, like white beaches, cliffs, clear water,woods, the marine park, small islets,... Stamatis Liveris and his family will be happy to give personal approach and care to our guests making their permanence a real experience. We know the island, we know all the ins and outs of it and we can give answers to all your questions. In Rentaki you will refuel yourself. Our spacious and luxury apartments with the terraces are just great to find yourself again after hard work during the year. The natural beauty of the place is perfect for the romance seekers, the active tourists or the low energy guests. That's why our customers come like guests and they all leave like friends.

Rentaki Villas also offers :

Reception
Hand made furniture from hammered iron in bouquet shades
Television
Telephone & Internet Connection
Air-conditioning (Sharp make)
Kitchen with all the necessities
Private parking space under the shade of old olive trees
Double glazing everywhere and a perfect insulator
Mosquito curtains in all doors and windows
Different colors for each apartment according to your taste
An out doors big grill (BBQ)
Huge verandas with dining table and poltrons
Comfortable places everywhere
Private Swimming pool with jacuzzi
Transport from/to the airport - port
Car & Bike rental arrangements
Diving Centre
Legenda:
Sve sobe, apartmani
Neke sobe, apartmani
Nema
Kapacitet:
Pogled na more:
Voda 24h:
Kupatilo:
Kuhinja:
Room service:
Sef:
Velika terasa:
Balkon:
Klima:
TV:
Kablovski TV:
Internet:
Telefon u sobi:
Parking:
Garaža:
Bazen:
Pogodno za decu:
Kućnji ljubimci dozvoljeni:
Ukoliko ste posetili ovaj smeštaj, Vaše utiske možete napisati ovde
Poslednji put ažurirano: 17.07.2022. Prezentacija kreirana: 17.01.2014.