Accommodation: Apartmani Kožić
category
category
category
Number of views: 27636
from
18€
per person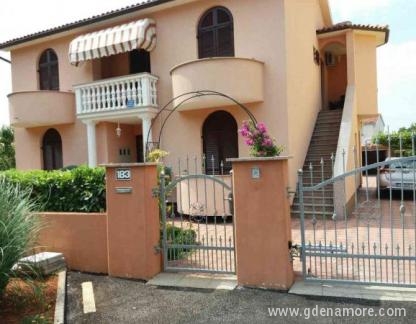 Contact Person:

Stjepan Kožić

Address:

Štrmac 183, 52220 Labin

City: Labin Rabac, Croatia
Phone:

+ 385 (0)52 851 904

Cell Phone:

+ 385 (0)99 3794 183
Contact owner
Add to Wish List
Owner speaks languages:Serbian, English, Deutsch, Slovenščina
Owner speaks languages:Serbian, English, Deutsch, Slovenščina
Apartment:
Room:
Studio:
Whole object
The modern apartments are located in a quiet side street in Štrmac near Labin, far away from the noise and crowd. Lots of green, flowers, quiet environment and pleasant nights will delight anyone who needs a relaxing holiday. The apartments are located on the first floor with a separate entrance to the house. Garden fireplace, swing and a covered garden terrace are located in the garden and avalilabe to the guests. The place is ideal for families with children. In the area of total 1000 m2, children can enjoy playing on the lawn, swings, in garden house or take a ride on the bike.
Nearby you can find two excellent restaurants, a modern supermarket, children's playground and a well-known promenade Dubrova with artistic path and outdoor sculpture park - Forma viva.
All guests will be welcomed for a comfortable stay with welcome drink and homemade cakes or fruit.
Legend:
All rooms, apparments
Some rooms, apartments
No
Capacity:

9 ležajeva

Seaview:
Water 24h:
Bathroom:
Kitchen:
Room service:
Safe box:
Washing machine:
Towels:
Large terrace:
Balcony:
Air conditioning:
TV:
Cable TV:
Internet:
Telephone in the room:
Parking:
Garage:
Pool:
Suitable for children:
Pets allowed
The apartment consists of a kitchen, dining room, bedroom, bathroom, hallway, balcony and terrace. The view from the apartment is on the calming green forest. KitchenIs is additionally equipped with microwave, coffee maker, kettle and toaster. If necessary, there is a baby cot - free of charge!...

More

The apartment consists of a kitchen, dining room, 2 bedrooms, bathroom, elegante terrace with awnings and balconies. The view from the apartment is on green forests on the one side and the panorama of the surrounding area on the other side. The kitchen is additionally equipped with a microwave, c...

More
If you visited this accommodation, you can write your impressions here
Last updated: 08/03/2018 Presentation created: 01/21/2013